When you first step onto a Kia dealership lot, most likely, you have a type of car in mind. You know you want an SUV, generally, but you're not sure what kind. Maybe you are considering a small crossover SUV that stands out from the crowd and is sporty, fun to drive, and uniquely stylish. The kind of car that makes people turn their heads when you drive down the street. A car that makes you want to go to the grocery store. But there's a little part of you that's considering something with a little more room for the family, though, let's be honest, you don't want to sacrifice performance and style. If only Kia made a relatively affordable midsize SUV that would make your neighbors slightly envious. Well, Kia just keeps making things harder on us; they now carry both a sporty, stylish crossover and a luxury-minded midsize that are both worth a double-take. If you happen to find yourself at one of the many reputable Kia dealership locations, you are in luck. 
Kia has you covered with the 2019 Kia Sportage and all-new 2020 Telluride. The hard decision now is: How do you choose? Everywhere you look, you find luxury, sophistication, and performance at an outstanding value, and while you see the value all around you, you're still conflicted. Do you go for the sporty, sophisticated crossover, or go big with the large, handsome-looking SUV? The 2020 Telluride has been drawing comparisons to British luxury SUVs. And the 2019 Sportage has started to venture Kia into the compact luxury crossover market. So long are the days when Kia was known for building cheap, small cars. Let's take a look at what sets these two SUVs apart and see which one might work best for your needs.
Affordable Luxury in a Midsize SUV
Imagine owning a luxury car without having to ask yourself if it's worth the price of admission. Imagine being able to feel good about your purchase, knowing you've found exactly what you were looking for—and at the right price. The 2020 Kia Telluride certainly fits the bill. This is a car that transcends categorization. The first thing you will notice is the design. It has the look of a luxury SUV but starts at just $31,690. A departure from the Kia Sorento, the Telluride is built to compete with the larger midsize SUV market, such as the Chevrolet Tahoe, with 3 rows and 8 seats and a robust 178.1 cubic feet for passenger volume. 
The Telluride comes with 4 trim levels (LX, S, EX, SX), but even with the LX you are sure to find the luxury you are after. Standard on the LX is a 291 hp, 3.8L V6 and 8-speed automatic transmission. All trim levels feature the same powertrain, including the top-of-the-line SX, which comes in at $41,490. The SX has options for Nappa leather, rain-sensing wipers, climate-controlled second-row seats, a 110-volt outlet, and a heads-up display.
If you want to spoil yourself but maybe want to hold off on all the bells and whistles, the S model comes with a sunroof and heated front seats. But we're just getting started with Kia's many features and options.The EX model adds Driver Talk (which plays the driver's voice through the rear speakers), a 10.25-in. touchscreen and a navigation system, an eight-way power-adjustable front passenger seat, leather seats, dual-zone automatic climate control, and rear passenger automatic temperature control.
And if you are feeling particularly luxurious, the SX model offers dual sunroofs, while also boasting a 10-speaker Harman Kardon sound system. Add a 12-way power-adjustable driver's seat, automatic high beams, a surround-view parking camera, and you have the makings of a car that's ready to redefine its class. With off-road capability and a multitude of high-tech safety features and unparalleled class comfort and amenities, the 2020 Kia Telluride is more than a breath of fresh air, it's the benchmark midsize SUV we have all been waiting for.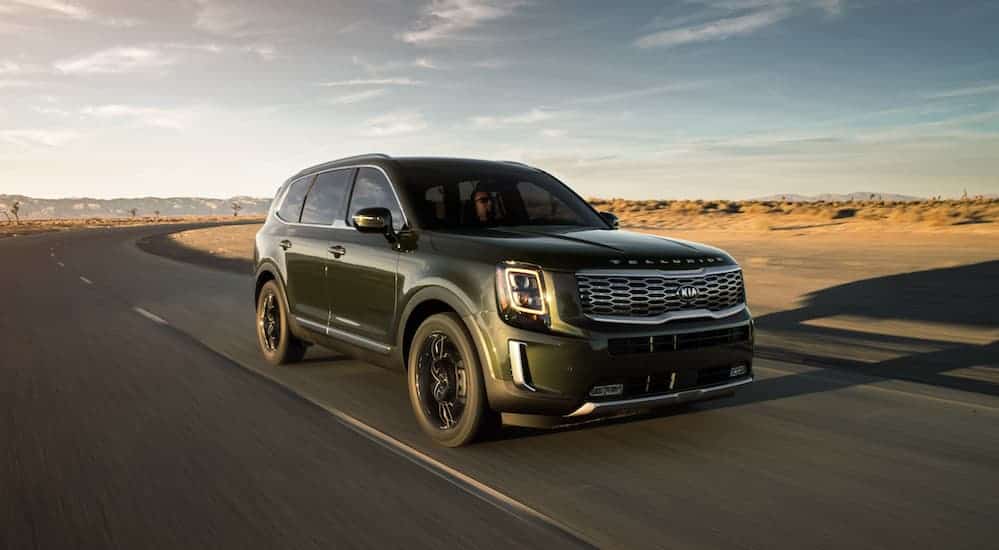 Compact Luxury Crossover
Likewise, if you are looking for luxury amenities at an affordable price, the 2019 Kia Sportage will not disappoint. The 2019 Sportage offers one of the most powerful engines in its class, with a 2.4L, 4-cylinder engine, and 181 horsepower coming standard, and an optional 240 hp 2.0L I4 turbocharged engine. With the combination of high-end features such as heated and ventilated front seats, a heated steering wheel, 320-watt Harman Kardon audio system, a panoramic sunroof, and a power liftgate, you have the power and luxury you seek in a modern luxury car, all at a reasonable price. And starting at just $23,990, there's plenty of room to build your dream car.
The 2019 Kia Sportage is the rare vehicle that ventures into the compact luxury crossover segment with its sophisticated features and sporty good looks. Combine that with one of the best standard warranties in the class (10 years/100,000 miles), and you have a sporty luxury car that's suddenly on your radar. Starting with the base trim LX model on the Sportage, you will find standard features include 17-inch alloy wheels, privacy glass, a 60/40 split-folding and reclining rear seat, keyless remote entry, a 160-watt stereo system with six speakers, a 5-in touch screen, and a rearview camera. Not bad. 
The Sportage EX (starting at $27,190) adds 18-in alloy wheels, driver-assist blind spot monitoring and rear cross-traffic alert, dual-zone climate control, smart key and push-button start, and a 7-in touch screen, among other features. And with the EX Premium, there's a panoramic sunroof with a power sunshade, just in case you are feeling truly extravagant.  
And of course, there's the all-powerful Sportage SX Turbo model with a sport-tuned suspension, 19-inch alloy wheels, 8-inch touch screen with navigation, bi-xenon headlights with dynamic bending light, the aforementioned panoramic sunroof, and many, many more features. The trim comes in at $33,490.
Technology and Innovation
It's important to note how difficult it can be to find so many standard features and options in a competitive price range. These standard features are a testament to Kia's dynamic presence in the market. It is hard to find such inherent value in a car these days, and if you factor in the smooth driving dynamics and the space and technology, there is no better deal in town.
Don't be surprised to see more and more Kia's cruising around your neighborhood. The 2020 Telluride and the 2019 Sportage are certainly changing the SUV landscape, and look for this to continue as Kia keeps innovating and bringing new technology to the market. Whether it's a vibrant design or a turbocharged engine, you will not be disappointed at your nearest Kia dealership location. Priced just right for you to actually afford the options and amenities you need, the Kia lineup for 2020 is sure to have the perfect car you have always dreamed of.