The minivan has been generally overlooked by consumers throughout the past decade, but it's now making a remarkable comeback.
According to Kelley Blue Book, minivan sales were up between 5 and 10% in 2014, and the trend seems to be continuing.
Why is the vehicle best known for its soccer mom appeal suddenly seeing more success? It's because there are modern minivans that no longer suffer from the dull looks and driving experience of their ancestors.
Instead, models like the 2015 Kia Sedona are changing the game. The Sedona boasts an athletic appearance reminiscent of an SUV, greater utility and convenience, and an impressive drivetrain.
So don't be fooled by the minivan's reputation from days of yore. The Sedona is in a category all its own. And if you spend a week in it, you'll probably be asking where it's been all your life.
Total Transformation
In terms of style, the 2015 Sedona has a brand new package to bring to the table. While lack of edginess remains a big drawback for many vehicles in this segment, Kia dealerships are offering a minivan with plenty of finesse.
It's styled in line with popular SUVs, sporting a large, mesh grille, chiseled curves, and a muscular appearance.
Much of the Sedona's body has been redone with high strength steel, thicker welds, and industrial adhesives to improve the minivan's structural integrity and enhance the level of safety it offers.
Small but meaningful touches, like lower metallic panels in the front and rear, a high window line, and a better defined back end, all contribute to how chic the exterior looks.
Many families have found themselves opting for SUVs in recent years, but there's no denying that the minivan's sliding door and low entry make it much more accessible.
As Forbes puts it, the minivan has an "inherent advantage over every other vehicle type when it comes to effective people moving."
Luckily, the Sedona combines that superior level of functionality with sharp looks and high quality design so drivers can have the best of both worlds.
Practicality Meets Performance
The 2015 Sedona offers a driving experience like no other minivan. Its 3.3-liter V6 is paired with a 6-speed automatic, and together, they offer a remarkably composed and quiet ride. Edmunds says the Sedona is "a must-drive if you're shopping in this segment."
The engine delivers 276 horsepower and 248 lb-ft of torque, making this minivan anything but sluggish. So you can pack in the whole family and a ton of luggage and still feel like your vehicle has plenty of punch. It even hustles from 0-60 in 7.9 seconds.
An additional perk is the Sedona's hauling capabilities. If you add on the available hitch, this minivan can handle up to 3,500 pounds of towing weight.
Good responsiveness and steady handling make the Sedona a pleasure to drive. And it's fuel economy doesn't hurt either. It gets up to 25 miles per gallon on the highway so you don't ever have to wave goodbye to your paycheck at the pump.
Overall, the Sedona offers an excellent balance of performance and efficiency that breaks the traditional minivan mold. Thanks to Kia, you really can have it all.
An Inviting Interior
The Sedona's cabin has an extremely welcoming, user-friendly setup that makes driving very relaxing. The center-mounted shifter, which is again similar to that of an SUV, makes plenty of room for thoughtfully designed dash controls.
The available 8-inch display and  the easily reachable climate settings make managing your preferences as simple as possible.
The Sedona comes standard with a 4-speaker stereo system, though your can upgrade. And there are a number of USB ports you can take advantage of to access your favorite playlists via a personal device.
Drivers also enjoy steering-wheel-mounted controls that reduce distraction and make adjustments a cinch. The Bluetooth hands-free phone system and a backup camera make life easier for the driver as well.
Also conveniently placed is a large center console located beneath the armrest. In addition, cup and device holders are front and center so you can keep everything your need at hand.
Available heated and ventilated front seats enhance the already upscale feel, keeping things comfortable, even during long drives.
In a segment typically represented by cheap cloth upholstery, bland plastics, and limited amenities, the Sedona stands out as a very classy alternative.
Convenience for All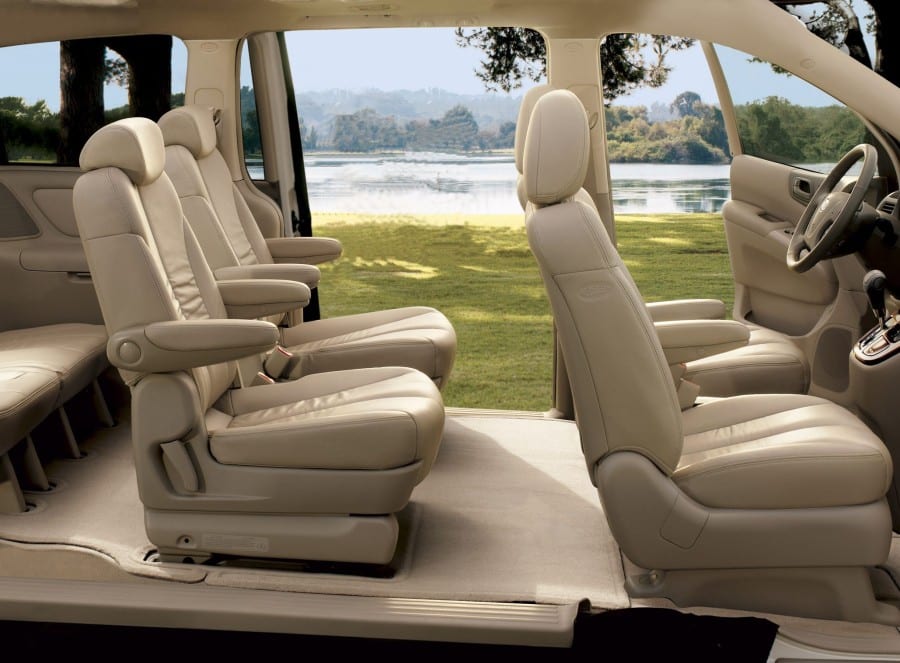 With seating for seven, the Sedona is a top choice for families. The kids and their friends can all have personal space, reducing backseat bickering and discomfort during lengthy treks.
And if seven-passenger seating just isn't quite enough, Kia does give buyers the option to add in an eighth spot for just a bit more room.
Details, like the 12 distributed cup holders and reclining second-row seats, make the Sedona convenient for everyone, not just the driver. And that's why this minivan will quickly become your family's favorite means of travel.
Plus you can bring along all of the things you need because there's a large cargo area. And with the Slide-N-Stow second-row seats and fold-flat third row seats, you can fit just about anything you want.
The Sedona provides impressive versatility by enabling you to change up the configuration and expand the rear cargo space as needed.
So why keep your family feeling cramped when there's a new kind of minivan that could make everyone comfortable and happy?
So Many Options
In the past, minivans often came with a take-it-or-leave-it kind of attitude. They didn't offer the same features you could get in other new vehicles, and frankly, they were pretty boring.
But that's another nice thing about the 2015 Sedona; it's available in five different trims so you can choose the lowest price possible or go for any extra features you'd like.
There's no more feeling left out; you can get your Sedona with all of the same luxuries and tech that you expect in a sedan or SUV. You no longer have to compromise in order to get space-efficient third-row seating.
Prices start at $26,100, and even the base package is quite comprehensive. It comes with many of the amenities mentioned above, as well as others like keyless entry and SiriusXM radio.
When you get into the upper level trims, you'll find extensive options including tri-zone climate control, a rear power liftgate, dual sunroofs, leather seating, a premium audio system, and larger wheel sizes.
You can also select the latest safety features: radar cruise control, lane departure warning, forward collision warning, a 360-degree surround view monitor, and xenon headlights.
And if you have young children in your family, the available Power-Sliding Anti-Pinch Doors may be a feature you want to include. If the doors detect that something or someone is in their path, they stop moving immediately.
In a vehicle, those seemingly small qualities can simplify and enhance your daily life in ways you never even imagined. They take away stress and add more pleasure.
So if your family is ready for a new vehicle that will make getting from place to place feel more like down time, Kia is the place to start.