It's hard to say if there's an automotive segment more competitive, or more polarized, than the pickup truck. The Ram, F-150, Silverado, Tundra, and Titan all push the limits of performance, comfort, and quality year after year in a breakneck struggle for supremacy. For the 2020 model year, we cast our lot with the Ram, which brought us to an interesting question – what is the difference between the 2020 Ram 1500 vs 2020 Ram 1500 Classic?
The Classic is not a trim grade – it's actually a completely different model. In fact, when the next-generation Ram 1500 was released in 2019, Ram decided that the previous-generation should keep on keeping on and renamed it the Classic. The Ram 1500 Classic retains the looks of the Ram 1500 of 2009-2018 while continuing to develop with the interior luxuries and performance capabilities of 2020. If the new look of the Ram 1500 isn't for you, maybe the Ram 1500 Classic is. An added bonus is a lower cost of entry – the Ram 1500 Classic starts under $28,000, while the Ram 1500 starts at $32,145.
Butting Horns
A truck is more than a passenger vehicle, it's a colleague. It doesn't matter how pretty or comfortable it is if it can't push, pull, or carry the load that you need it to. Rest assured that no matter which Ram you prefer, you'll be very well-equipped to handle any task, but we'll look at the differences here.
Let's start with the simple part – the box. The Ram 1500 Classic offers a 5' 7" and 6' 4" box on all trims except Tradesman, which swaps the 5' 7" option for an 8' bed. The Ram 1500 offers 6 trims, including a Tradesman, but does not offer the 8' bed. Some trim options on both models (Ram 1500 Rebel, Ram 1500 Classic Express, and Warlock) force you to downgrade from a Crew Cab to a Quad Cab to get the longer bed. One more noteworthy difference on the Ram 1500 Classic is that the Tradesman does not offer a Crew Cab like the Ram 1500 does, instead offering Regular and Quad Cab options.
Between trim, cab, bed, drive option, transmission, and engine, there are a plethora of combinations for both models, which result in different towing and payload results. Ram's website has a handy performance comparison tool to look at all of the combinations in detail, but we can summarize it here. On the Ram 1500 Classic with a 305 hp 3.6L V6, the max torque is 269 lb-ft, max payload is 1,500 – 1,920 lbs, and max towing is 7,090 – 7,600 lbs. The bigger 5.7L V8 HEMI engine delivers 395 hp and 410 lb-ft of torque, a max payload range of 1,400 – 1,800 lbs, and a seriously boosted towing capacity of 9,030 to 10,680 lbs.
The new generation Ram 1500 offers the same engine options, plus two award winners for fuel efficiency in a 3.0L V6 Eco-diesel and an upgrade of the HEMI with Etorque technology. The 3.6L on the Ram 1500 has a slightly increased payload capacity of 1,600 – 2,100 lbs and can tow 7,230 – 7,730 lbs. With the 5.7L HEMI the payload is only 1,740 – 1,910 lbs (which is still more than the Classic), but the towing is a staggering 11,280 – 11,620 lbs. The more efficient engine options are no slouches either – the Ecodiesel can still handle 2,100 lbs of payload and tows over 10,000 lbs under several configurations, and the Etorque V8 still tows up to 11,540 lbs with a max payload of 1,820 lbs. The 2020 Ram 1500 Classic is a highly capable truck, but in any head to head competition the equivalent 2020 Ram 1500 has the bigger horns.
What's Inside Counts Too
The Ram 1500 and Ram 1500 Classic are more than utilitarian workhorses – they're luxury vehicles, too. Multi-function tailgates, hidden cubbies and bins for extra storage, heated seats, and a Uconnect touchscreen system make these models special both for what they have inside and what else you can bring along for the ride.
Starting from the rear of the truck, the Ram 1500 flashes something that the Classic just doesn't have. The 60/40 split tailgate swings open to the left and right for easier access to the bed – whether you've got a trailer hooked up, need forklift access, or just can't quite reach the front of the bed, the split tailgate will help you get in close. Both models proudly wield the RamBox cargo management system, highlighted by lockable, weather-proof, drainable, LED-illuminated cubbies on either side of the bed.
Moving to the cab, both models sport dual glove boxes and in-floor storage options for Crew Cab builds. Center cushion storage is available on the Classic's 40/20/40 split front bench seat, as is rear under-seat storage. In-floor storage is standard on Ram 1500 Crew Cabs, as is a configurable center console, which can store files or a 15" laptop if needed. Finally, with over 150 L of interior storage space, the Ram 1500 with a Crew Cab leads its class, allowing for maximum organization and minimum clutter.
The Classic hasn't been left behind by advancing technology. The interior technology and entertainment suites include an available 8.4" Uconnect display with Apple CarPlay and Android Auto compatibility, up to 9 speakers, LED lighting throughout the cabin, heated front seats and steering wheel, and dual-zone climate control. A rear backup camera is standard, with front and rear park assist optional. On the SLT trim and up, a 10-way power adjustable driver's seat, with 4 way lumbar adjustment, can be found as well.
That isn't shabby, but the Ram 1500 kicks it up a notch – there's a reason it won Cars.com's Luxury Car of the Year, the first time a truck has done so. The Uconnect system is available at 12", and the premium Bose sound system can have up to 19 speakers. Rear seats with reclining, heating, and ventilation are available. ParkSense front and rear parking assist is an option for most trims, with parallel park assist available as well. Advanced safety features such as rear cross-traffic alert, blind spot monitoring, surround vision, emergency automatic braking, and lane departure warning are all available on Laramie and Limited trims.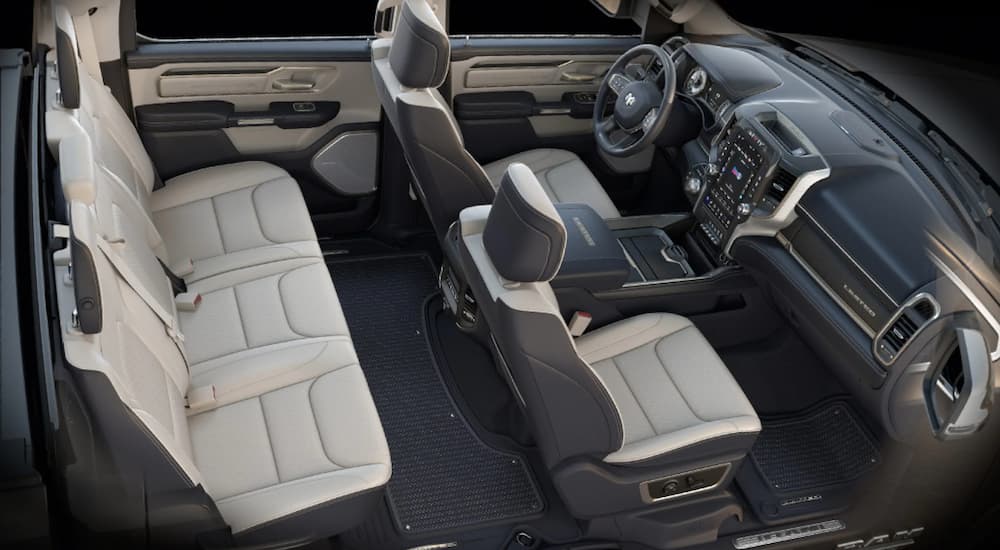 Guts, Glory, Ram
There's a lot to consider when looking at a truck. Not only are the usual metrics of comfort, reliability, safety, and efficiency in play, the practical usefulness of the vehicle matters too. With dozens of configurations of drive train, cab size, bed size, trim level, and livery suites, both the 2020 Ram 1500 and 2020 Ram 1500 Classic are sure to have builds that suit your needs. Whether it's going to be used for weekend errands, off-roading adventures, or as a 9-5 workhorse, the 1500 models are excellent choices for any light-duty pickup driver.
The 1500 Classic has a lower price of entry, but with the SLT, Warlock, and Laramie trims, you'll still be rocking state-of-the-art connectivity, safety, and efficiency technology along with the handsome, well-established look of the '09-'18 Ram 1500. Offering twice as many engine choices, additional trim levels, and a re-engineered body structure, the 2020 Ram 1500 outperforms the Classic in towing capacity, payload, and efficiency (depending on the engine). The comfort and quality of the Ram 1500 has been recognized by awards from JD Power, Cars.com, MotorWeek, and others. Connectivity, flexibility, utility, and luxury are there for the taking – albeit it, for a price.
In the world of light-duty pickup trucks, the competition is stiff, and the options are endless. We think the choice isn't which brand of pickup to pursue; rather, the question is which Ram is right for you. The Ram 1500 Classic has over a decade of development behind it, and the Ram 1500 is collecting awards around every turn. Both provide numerous trim and performance options to be customized for your exact wants and needs. These models are more than just another two sheep in the herd; they're Rams.