There are many legendary and iconic vehicles out there, and near the top of the list is the Chevrolet Suburban. For decades, the Suburban has existed as a staple of the Chevy lineup, and arguably the largest. This full-sized SUV has undergone many transformations over the years, and yet throughout it all, it has remained the same hefty full-sized SUV that delivers the best in power, utility, and comfort. The 2020 model is set to be another legendary Chevy SUV, hopefully keeping everything good about the 2019 model and getting rid of all the old. In a market crowded with SUVs, the Chevy Suburban has a lot to compete with; however, few hold such a legendary place within the automotive world. So, let's shed a spotlight on Chevy's flagship SUV, and see if the latest 2020 model lives up to the classics of old.
A Suburban for Every Driver
When the Chevy Suburban first rolled onto highways and byways across the country way back in the late 1930s, the SUV was very different from what it is today. Very few models can claim to have that sort of history, and over the decades, the Chevy Suburban has refined its package, adapting to changing needs, and the ever-varied needs of potential drivers. The 2020 Chevy Suburban is a clear example of this gradual change, shifting towards a more fuel-conscious, safety-first, tech-focused driver.
Like previous iterations, the 2020 Chevy Suburban is available in one of three different trim levels, the LS, LT, and Premier. While we'd have liked to see more variety in the various builds of the Chevy Suburban, this full-sized SUV has never been one to offer a plethora of different trim levels. Starting at $51,700 MSRP, the Chevy Suburban is no budget SUV, and for many potential buyers, this isn't as much of an issue. The Chevy Suburban is a lot of vehicle, so it only makes sense that the entry-level model would be a little on the pricey side.
In terms of appearances, the 2020 Chevy Suburban is a standout, still relying on the classic boxy aesthetic that it is known for. Sure, there is some newer modern flare here and there, like in the headlights or front grille, but for the most part, what you're getting now in terms of style is similar to what was offered in the past.
A Beefy Engine for a Beefy SUV
When we say that the Chevy Suburban is a lot of car, we mean it. From bumper to bumper, the Chevy Suburban measures in at 224.4 inches, which requires no small feat of mechanics to push all that car forward. Fortunately, Chevrolet has done an excellent job of offering powertrains that are up to the task. The base model LS comes with a beefy 5.3-liter V8 engine that uses a 6-speed automatic transmission to churn out 355 horsepower and 383 lb-ft worth of torque. Available in either front, rear, or four-wheel drive, even entry-level models of the Chevy Suburban put out some serious power and capability. What makes things great for the Chevy Suburban is the fact that you get more than a single powertrain to choose from.
In the Premier model, you'll find a 6.2-liter V8 engine and a 10-speed automatic transmission, which as a whole is rated for 420 horsepower and 460 lb-ft worth of torque. And if even this more powerful engine isn't enough for you, you can take things even further with Chevy's RST package. With Chevy's RST package, you'll get magnetic ride suspension and 22-inch wheels, which makes for a pretty smooth ride all around.
While the performance of the Chevy Suburban is pretty good, we'd have liked to see more diversity available, maybe even a hybrid powertrain to increase fuel economy. This may be a case of wishful thinking on our part, but a hybrid-powered Chevy Suburban could broaden the appeal of a vehicle that has to compete with the likes of smaller electric-assisted SUVs like the Ford Explorer and the Toyota Highlander.
Speaking of Size
It is impossible to talk about the Chevy Suburban and not bring up that impressive interior cabin. No matter what trim you buy, you can seat up to nine people, a staggering number when compared to other vehicles within the same class. Cargo spacing is a big bonus for the Chevy Suburban too, which starts out at 40 cubic feet behind the third row. Fold all the rear passenger seats down and that initial measurement balloons up to 122 cubic feet, making the Chevy Suburban one of the most spacious SUVs on the market. Depending on what trim option you buy, you'll either find durable cloth or premium leather and no matter if you're in the front or the back you'll get the luxury of more than enough legroom.
A Highly Advanced SUV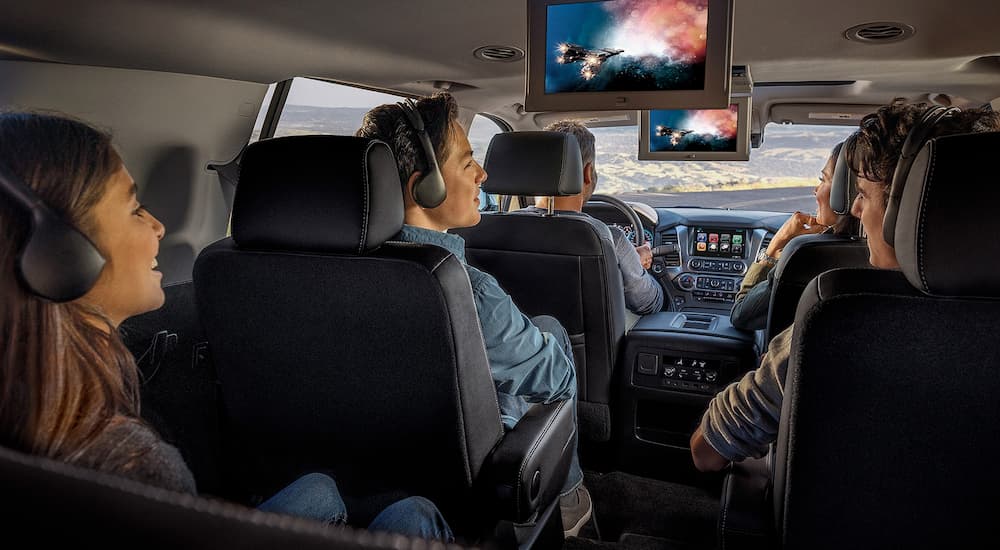 One way in which Chevy has continued to adapt their flagship SUV is by adding more and more onboard tech. The 2020 model is the result of several decades of automotive innovation in the making. The base model of the Chevy Suburban is well equipped with its 8.0-inch infotainment touchscreen, which is made to be Apple CarPlay and Android Auto compatible. The front seats in the base model are power-adjustable, and with three-zone climate control, no passenger has to feel too hot or too cold.
Things only jump from there, with the LT trim level sporting heated front seats, an audio system designed by Bose, and a power liftgate. Move all the way up to the top Premier trim, and you'll get even more onboard tech in the form of a beefier Bose audio system, keyless ignition, a hands-free liftgate, and ventilated front seats. While the Chevy Suburban is packed with technology, it isn't exclusive to infotainment and comfort; there are plenty of active safety features in this Chevy SUV as well. No matter what trim you decide to invest in, you can upgrade the standard safety package to include high-tech features like automatic emergency braking, automatic high-beam lights, and active lane control. Unfortunately, we were pretty disappointed to hear that Chevy didn't bother to include any of these features in their baseline model as standard in order to keep up with competitors (but there is always 2021). In this way, the Chevy Suburban feels a little dated, and while this classic charm does hold up everywhere else, we'd have liked to see Chevy embrace more safety tech in their entry-level models; then again, that'd almost certainly increase the price.
Our Verdict on the 2020 Chevy Suburban
If we were to summarize our opinion on the Chevy Suburban into a single thought, we'd say it's a great classic that has managed to keep up with the ever-evolving automotive industry over the course of decades. That said, there are some areas where the Suburban doesn't quite meet the mark and is downright disappointing when it comes to the standard offering of active safety features. That said, these missteps don't make the Chevy Suburban a bad car, not by any means. What you get when you purchase the 2020 Chevy Suburban is one of the largest SUVs out on the road, equipped with enough power to heft all of that weight with ease.